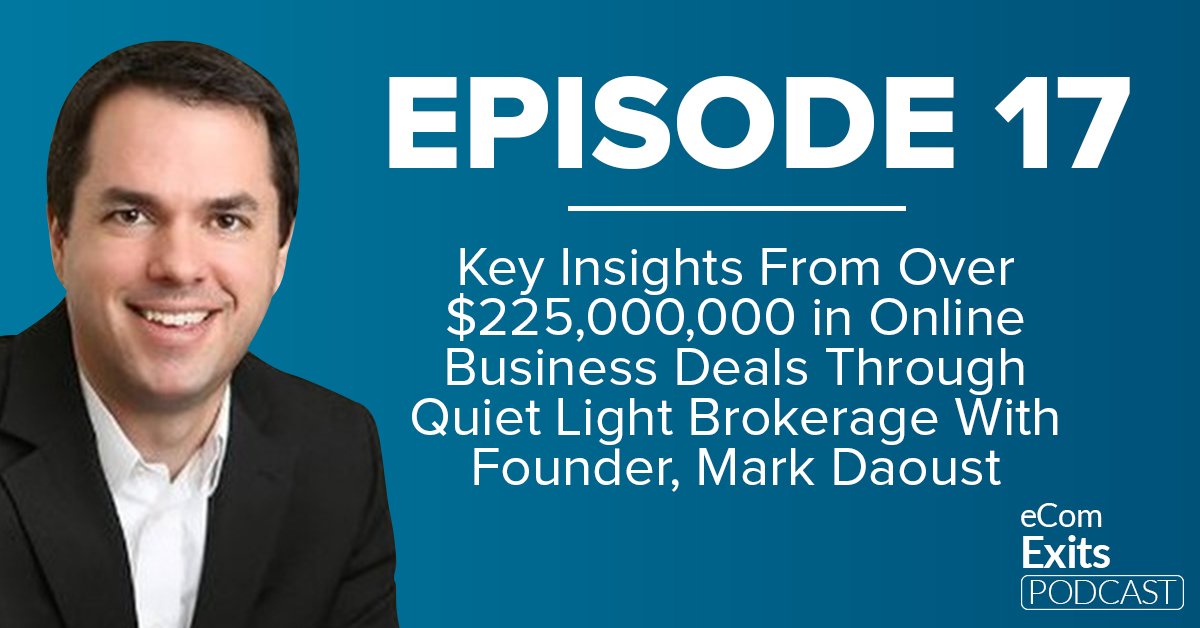 Mark Daoust, founder of Quiet Light Brokerage, discusses the intricacies involved in the selling of an e-business regardless of its size and the preparation it would take to prepare a business to sell.
KEY INSIGHTS FROM OVER $225M IN ONLINE BUSINESS DEALS – WHAT YOU'LL LEARN
Background of Quiet Light Brokerage
How to pick a Broker when selling the Business
Difference between selling a small e-business (5 figures) and a large one (8 figures)
The Four Pillars of Business Value
Approaches of a Broker
Understanding the Levers of a Business Value
KEY POINTS
Quiet Light has been in existence for fourteen years, selling e-businesses. The experience of selling both big and small businesses have helped them identify key elements in a business to make it palatable to buyers.
Go with the broker that the seller would feel comfortable with and not just their offers.
The size of the business being sold would attract different buyers. Small businesses often attract informal buyers seeking to increase their portfolio. The seller should think of what kind of seller they want to attract in order to determine at what size they will sell their business.
Documentation affects the valuation of the e-business. It is through the correct documentation can one see just how much the business is making and its growth potential.
As a broker, their concern is the deal structure; not only how much the seller will get but from where it would be coming from and conditions in the payment.
Getting to know your company's value is very important, whether you want to sell or not. This would help you make crucial decisions on the business.
RELEVANT MATERIALS
CONTACT MARK DAOUST
Make sure to visit the QuietLight Brokerage website and send a message to quietlightbrokerage.com for inquiries on selling or buying an eCommerce websites. For more specific concerns you want Mark to address, you can send him a message to [email protected].
Thanks so much for joining us this week. Want to subscribe to the Ecom Exits Podcast with Nate Ginsburg? Have some feedback you'd like to share? Connect with us on ApplePodcasts and leave us an honest review!
Your feedback will not only help us improve the show, but it will help us connect with more high flyers like you.