An Amazon FBA Store is great. You can run it on your own, selling hundreds of items each week, remotely from anywhere in the world.
This is how it starts out for every FBA entrepreneur, including Vidal Crafts.
Vidal Crafts are a Stylish Tissue Paper Company hell bent on inspiring the world to throw more beautiful parties & adding a burst of color to life's special events.
They do this through selling premium quality & environmentally friendly craft paper pom poms.
As their popularity increased, so did their sales.
But as sales increase, so do errors.
Pay careful attention. Because when your sales start to crush it, you'll have a new challenge on your hands. You'll sell out & stocking out is a huge problem. Run out of inventory & you lose out on sales. It also opens the door for competitors to outrank you.
Whilst you're busy trying to restock your shelves, your competitor has helped themselves to a nice slice of your market.
This was something that had a firm grip on Vidal Crafts and their business.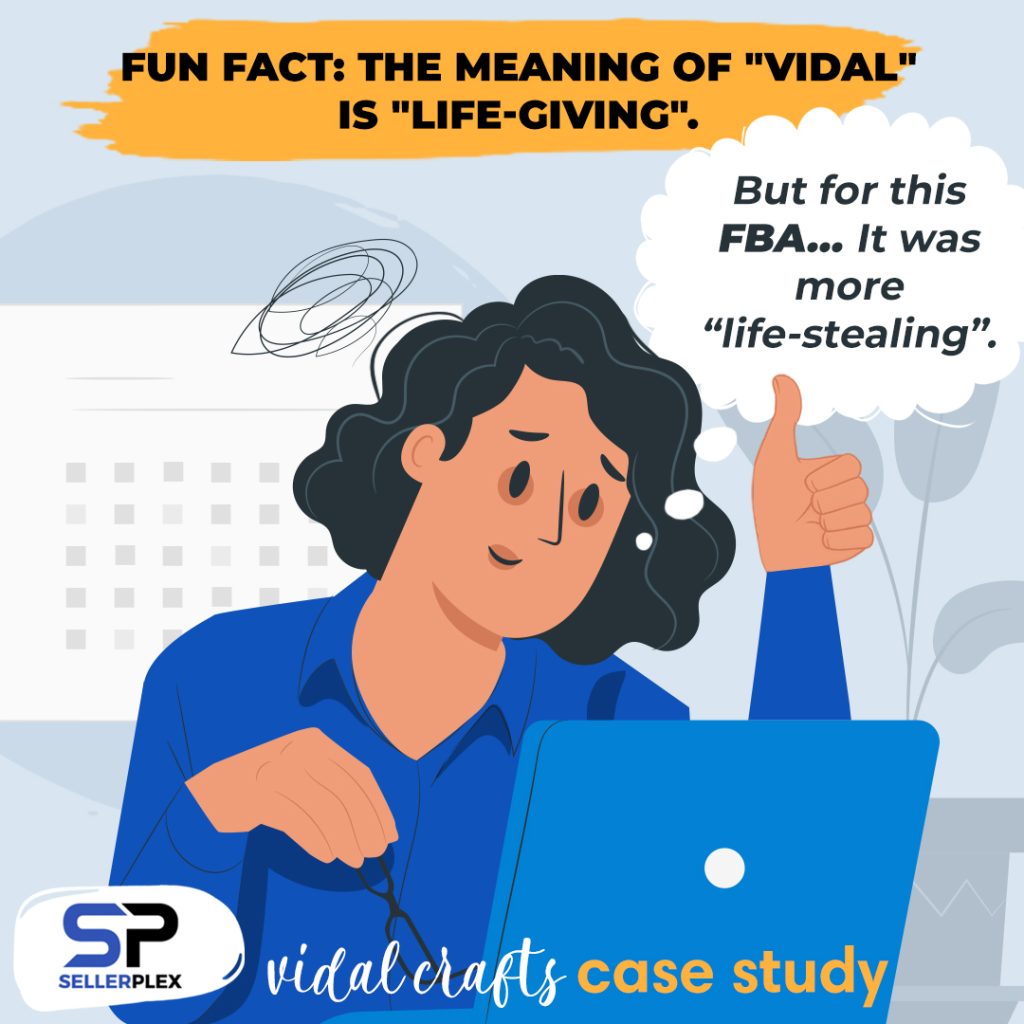 When they came to us, all their hard work – product sourcing, beautiful images, listing optimization, marketing & PPC – was going to waste.
They were having frequent stock outs & air shipments.
Their business was bleeding money.
And they were living in what we call "No Mans Land".
Being in No Man's Land is very dangerous.
It offers no protection for your business.
Your business is held to ransom by your suppliers.
And it can be very tricky to unstick yourself without any damage.
The very first thing we did with Vidal was a FULL supply chain audit.
We wanted to make sure no stone was left unturned.
Everything in the supply chain needed to be put under the microscope and scrutinized.
When your business is bleeding profit like this, you have to analyze and look for historical patterns.
This is the only way you can find holes in your business.
When we were analyzing, we found key missing parts within the supply chain that were causing Vidal to bleed their profits.
Out of date systems
Technologies that weren't pulling their weight.
These are just a handful of things that make you lose customers and orders fast.
By organizing this information, we were able to find the "Quick Wins".
The urgent matters that need to be addressed as soon as possible to avoid extra cost and stock outs…
But once addressed, earn and save you money in the long run.
After, we looked for kinks in the supply chain.
Key missing parts within the supply chain that when fixed, would mean Vidal was able to achieve optimal inventory level at all times.
The best way to define inventory requirements is based on the lead times and sales velocity.
Now, we have finely tuned processes and SOPs in place to suggest the inventory reordering points.
These SOPs allow a 'future lens' approach.
Taking a 40,000ft view to look at possible demand and then plan and forecast with the distributors.
Based on Vidals requirements, we defined the buffer stock and cycle stock within their pipeline and improved communication between all parties.
By doing this, we helped Vidal build a proactive business structure rather than reactive one.
This is key.
We work with far too many businesses who have a "Reactive" approach to their business.
Focusing on what competitors are and are not doing.
Being 'proactive' is about finding and executing on the 1% optimisations in your business that compound over time to deliver massive results.
Once we did this, it was a case of doing a final test to fully dial in the supply chain cost to avoid more bleeds.
Fixing all issues in just a couple of weeks.
Here's why this is important…
Have you ever put Diesel in a Petrol car?
It's a very simple mistake to do when you don't know what is happening or what you are doing.
Your car may run well at first, but at some point that is going to catch up to you and leave you stranded.
This is what happened with Vidal.
Their supply chain being un-optimised created this backlog of symptoms that would leave you running around your business trying to put out fires rather than enjoying the rich benefits of being a business owner.
To fine tune your supply chain you need to make sure everything is functioning as intended.
Check your staff are on the same page.
Make sure the systems you use are up to date.
Scrutinize the technologies you're invested in.
Are they pulling their weight to grow your business?
If your technology is outdated and your staff are untrained…
You will lose customers and orders faster than you can imagine.
No matter how well you manage your inventory and fulfillment.
Thankfully, we were there in time to guide away from that possibility and towards a long term solution.
Fixing the root cause of their struggles.
Now, we can't stress this enough.
In today's day and age, competition is no longer between individual businesses…
'How much X product is priced, or how well Z product is listed and optimized.'
The competition is won & lost based on the strength of the supply chains your business is built from.
Having a strong supply chain is fundamental for any rapidly growing business.
In the short time frame we worked as a consultant for Vidal, here are the results of that work.
YOY they achieved +200% sales growth.
Achieved +95% in stock throughout the year.
Reduced Air shipments by 80%.
They crushed last year's sales within 6months.
Avoided sales losses.
Avoided losing ranking by going out of stock on Amazon.
They saved money.
All this, from tweaking and adjusting their supply chain.
Ironing a crease here, improving communication there.
Their supply chain not being optimized caused a lot of pain and sleepless nights.
Is your business the same?
If so, we have some good news.
Your supply chain is a few small tweaks, a few minor adjustments away from delivering rapidly different results for your business.
Let us prove it to you.
We'll show you where your kinks are and where you're leaving money on the table.
After that call, do with the information what you wish.
You can either go it alone and make the changes yourself.
Or you can have our team to help you personally double, triple, or even quadruple your business… for free.
Yes, for free.
We have a strong reputation for saving our clients money and increasing sales growth in the first 30 days.
Meaning you pay nothing out of pocket… EVER.
Sounds fair enough?
Good.
We'll see you on the call.