Amazon, like everything else, is ever-changing. Whether you're a newbie or a seasoned Amazon seller, there is always something new to learn (or a problem to solve). But luckily, the internet is home to a large number of excellent Amazon FBA blogs dedicated to all things Amazon and being a successful Amazon seller.A lot of the most useful eCommerce Amazon blogs are written by actual sellers sharing their experiences, their ups and downs, that lead to the tips and tricks they've picked up along the way.But with all these FBA blogs covering the topic of selling on Amazon, where do you actually start? It seems that finding good blogs can sometimes consume the same amount of time as actually reading the material, but don't fret – we took it upon ourselves to take the burden off your shoulders.Here are our top Amazon blogs that up your FBA game drastically: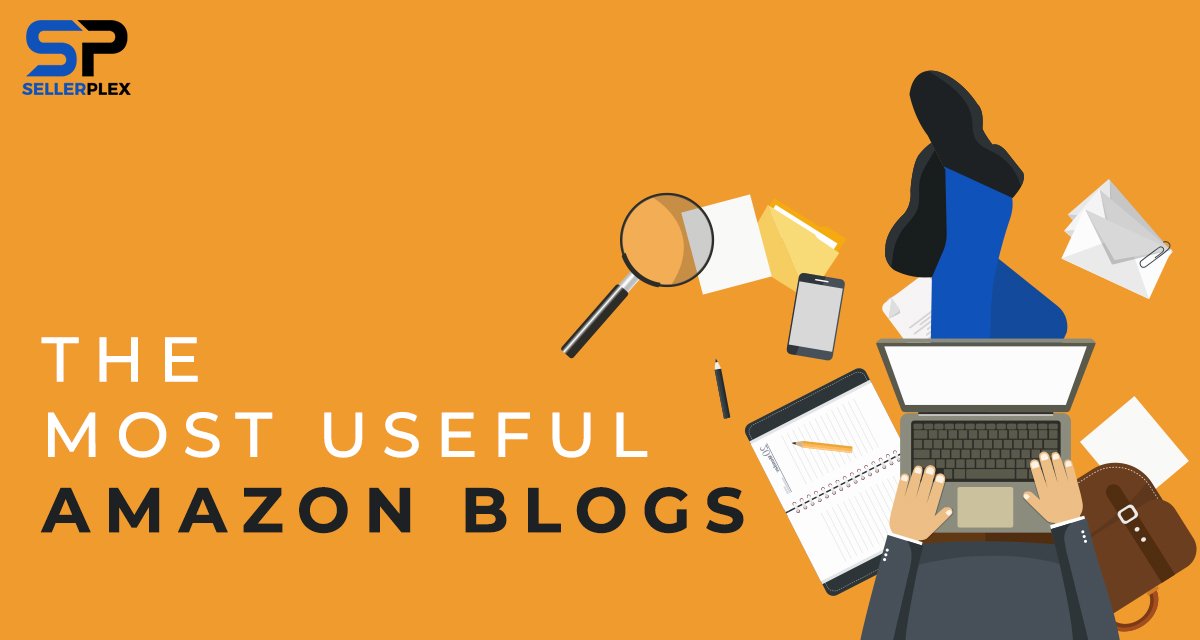 Founded by couple Stephen & Rebecca Smotherman in 2011, this site highlights smartly utilizing your time to gain the most profit. Full-time FBA posts are organized and very easy to understand. The Full-time FBA blog is best for repricing Amazon business strategies and tool reviews, especially if you want to scale your business. To add, they also have videos, a podcast, and how-to guides.
BEST FOR: People who want to go full-time but with part-time hours.
FREQUENCY OF POSTS: 3 times a month
2. AMZ Advisers – Another Amazon Blog
This site has been up and running since 2014, and it concentrates on strategies to maximize sales for both Seller and Vendor Central sellers. AMZ Advisers explore marketing and advertising to increase your brand's visibility and product rankings. Instead of photos and videos, their posts are very data-driven and detailed, so if you're more into the fine print, then this is definitely for you.
BEST FOR: Detailed Marketing and Advertising topics
FREQUENCY OF POSTS: about 5 times a month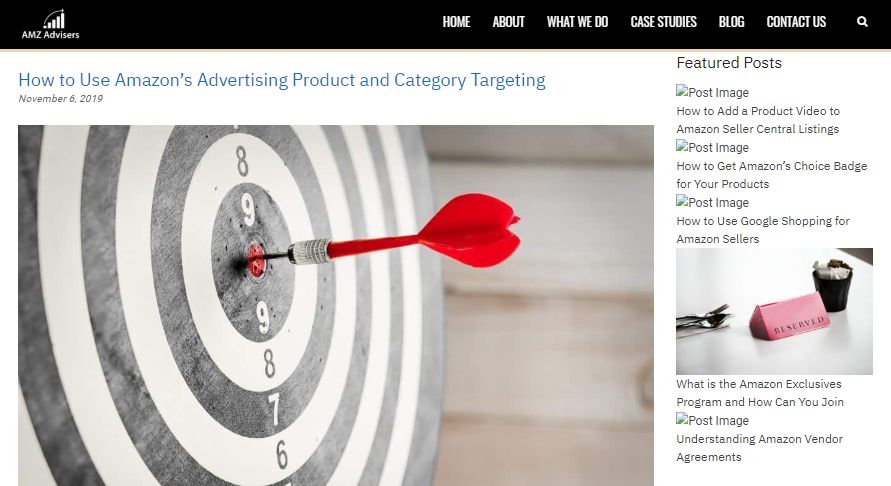 Greg Mercer and his friend Lenny Smith were both Amazon Sellers before starting Jungle Scout. Currently, the site has covers both products (specifically the JS Software) and resources. They have software available that helps maximize your Amazon operations. Moreover, they have a wide array of resources – Amazon FBA from blogs and e-books to podcasts and webinars. These options are available so you can learn in however way you want.
BEST FOR: All-around guide to Amazon FBA
FREQUENCY OF POSTS: 5 times a week
This husband-wife-son team, Jessica, Cliff, and Aiden Larrews started selling on Amazon about ten years ago. From the name itself, they value putting family first while still earning more than enough to live your dream life. Their posts don't really have photos but are an easy read and straight to the point. Additionally, they have a lot of courses available on their site. Most notably, the Amazon Bootcamp Training Course that is targeted to aspiring FBA sellers.
BEST FOR: Topics like sourcing and Operations Management for FBA sellers
FREQUENCY OF POSTS: 2 times per quarter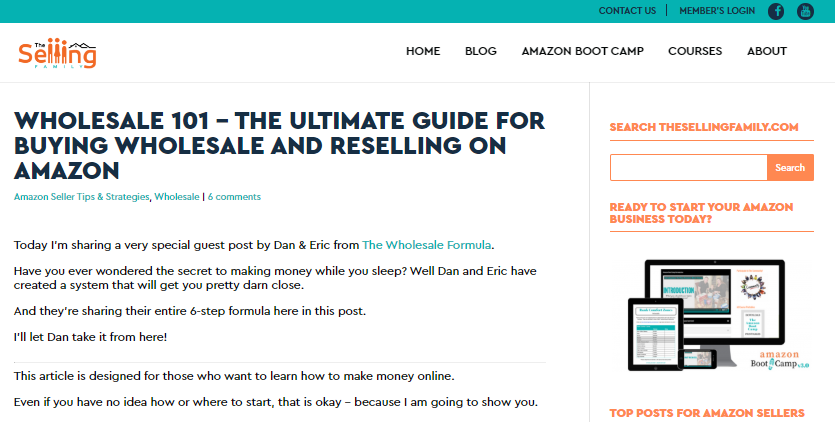 The site is mainly marketing its Amazon Seller Management Software that deals with your business' everyday order management, feedback, analytics, product reviews, email automation, monitoring, and notifications. Its FBA blog posts follow suit – they cover possible day-to-day issues that you might encounter when running your online business. And what's good about them is that the articles are very straight to the point and cover the issue in a well-structured way.
BEST FOR: Basic everyday How-to's of Amazon Selling
FREQUENCY OF POSTS: 5 times per month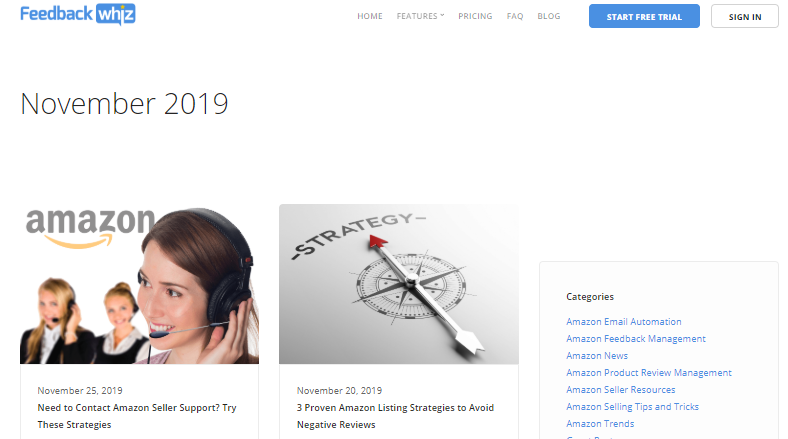 The man behind the blog – the Amazing Seller himself – is Scott Voelker. Scott started this site as a podcast in 2014, because he couldn't find podcasts for Amazon FBA Private Label Sellers. Presently, the site has comprehensive resources focusing on in-depth information on tools, but also on facilities for sourcing, keyword tracking, listing optimization, and many more. Posts are always hand in hand with a podcast so you have the option to check out both or either.
BEST FOR: Reviews on Amazon tools and facilities
FREQUENCY OF POSTS: about 3 times per week
This blog is actually not concentrated on just Amazon, as it also talks about strategies in making money and ultimately growing your net worth. However, it is definitely worth a mention because of how good its reviews are for Amazon seller tools. It's run by Zach Zorn, and you'll love it if you want that push to go and start your own online business.
BEST FOR: Budding entrepreneurs who want to go into eCommerce
FREQUENCY OF POSTS: about 3 times per month
Initially targeted for eBay sellers, this blog has now captured other marketplace sellers – specifically Amazon ones. With its founders Chris Dawson and Dan Wilson, it aims to bring you the latest online marketplace news, with topics rangeing from merchants & suppliers, retailers & brands to your basic how-to's.
BEST FOR: Latest eCommerce news
FREQUENCY OF POSTS: once per day
As the name suggests, they do legal services for Amazon sellers, especially regarding account suspension. The founding partner of the firm, CJ Rosenbaum, is competent in Intellectual Property Issues which is usually the basis for account suspension. Their blog is very niche and concentrates on the legal side of selling on Amazon.
BEST FOR: Legal concerns regarding Amazon suspension
FREQUENCY OF POSTS: once per day
Created by Tom Buckland, this blog focuses on growing the profits of Amazon brands through organic rankings. Consequently, posts are centralized on optimizing product listings, better product descriptions, tools to grow your Amazon FBA business, and similar topics. Additionally, there are always consistent infographics to never bore the reader.
BEST FOR: Improving your rankings organically through SEO
FREQUENCY OF POSTS: once per week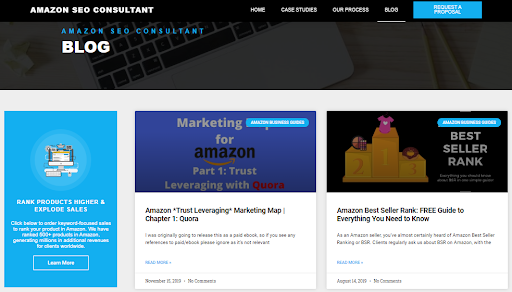 Founded by Davide Nicolucci, the Growth Hack blog is focused on helping Amazon sellers in managing their business effectively.  You'll get in-depth analysis and discussions that talks about biggest and latest news in the industry. From cheatsheets, basic know-hows to more technical stuff, Growth Hack is your go-to blog.
BEST FOR: Tips and tricks for Amazon sellers who are looking to scale their business
FREQUENCY OF POSTS: about once or twice a month
So there you have it – these are our favorite Amazon FBA blogs that make sellers' lives easier and we look forward to hearing which are yours!