You've done your research, have chosen the perfect product, set your listings up and are ready to start getting those sales. But then, disappointment hits. Your products are not selling nearly as well as you expected them to.
How could this be?You have an amazing, high-quality product that you know people need, but nobody seems to be buying…at least not from you.One factor that many tend to overlook is the fact that the best selling products on Amazon tend to be those that perform well in Amazon searches.Yes, Amazon isn't exempted from the cutthroat world of search engines and algorithms. You won't just need a solid product and an enticing marketing material to win over customers. If you want to be at the top of the game, optimization is the key to reel in the customers.So the real question you need to ask yourself is: "Is my Amazon product listing well optimized?" and if not, the second (and most important) question should be: "How do I optimize my Amazon listing?"In this article, we'll cover exactly that – Amazon product listing optimization basics and advanced tactics to help you get in front of buyers and increase sales!Here's a breakdown of everything you're going to learn:
What Is Amazon Product Listing Optimization (Amazon SEO)?
Everyone (including us at SellerPlex) keep talking about how Amazon product listing optimization is extremely important and should be done for every product you sell. But what exactly does that even mean?Amazon listing optimization is a way of allowing the Amazon algorithm to crawl and index it, as well as understand what your product is and who it is meant for.Amazon product listings are comprised of multiple elements and we'll walk you through all of them, as well as how to optimize each.
​
Interesting: 13 Off-Amazon Strategies to Diversify Your Revenue Stream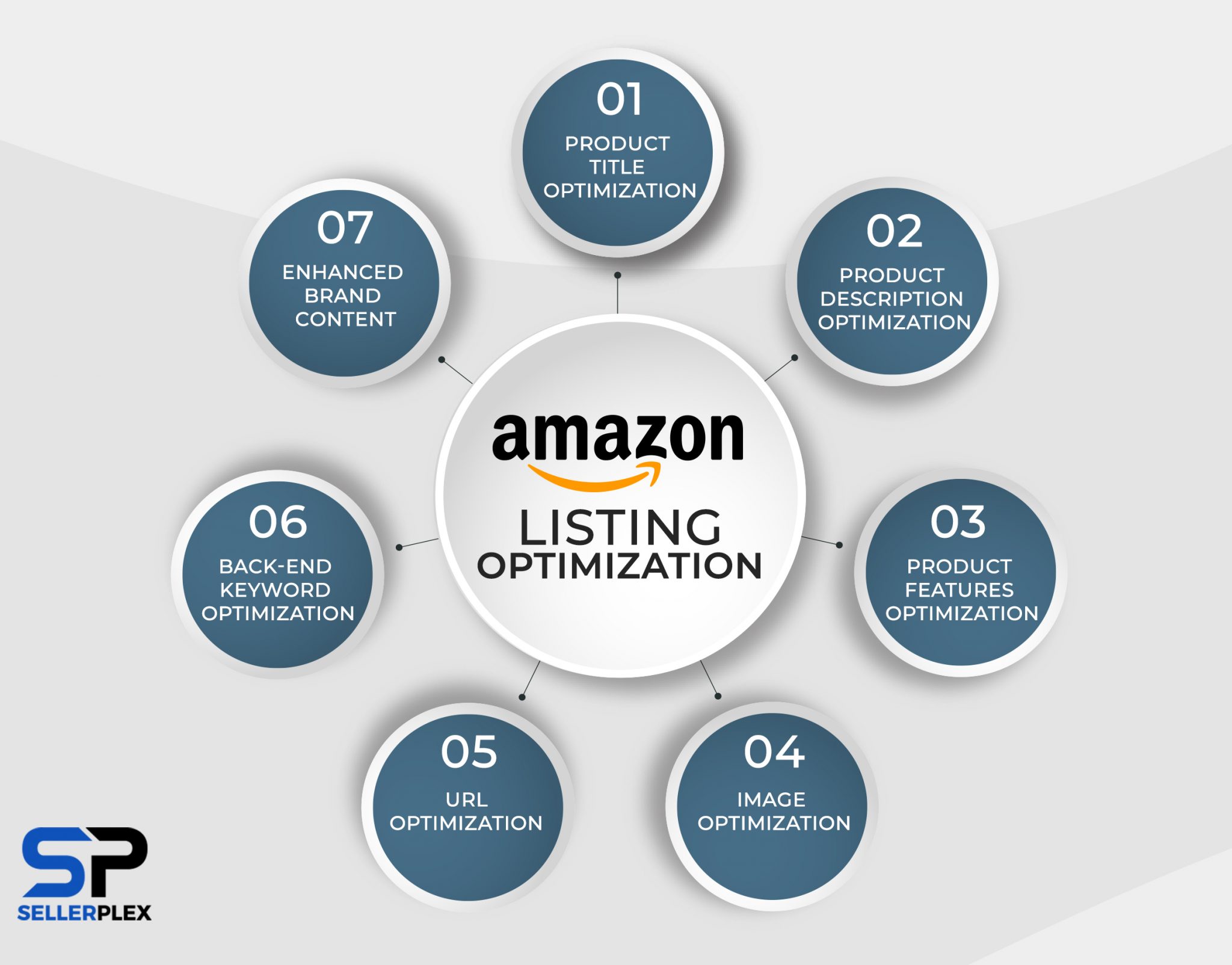 1. KEYWORD RESEARCH AND OPTIMIZATION | How To Find The Most Effective Amazon Product Listing Keywords?
The first thing you need to do before you start working on your product listings is to perform keyword research. This is done in order to find out which terms buyers are using when searching for products similar to the ones you're selling.There are multiple tools that allow you to do keyword research to find the best search string for your Amazon product listings. We'll list some of our favorites below.
Free Amazon SEO Keyword Research Tools
After properly packing the products and ensuring that the boxes have been labelled properly, the next step is to send the products to the Amazon FBA warehouse. It can be difficult to figure out how to ship to Amazon FBA if there aren't any clear guidelines on the website. Those who have sold products with Amazon SEO have also begun not knowing how to send products to Amazon FBA.
Keyword Tool Dominator
Keyword Tool Dominator is a free Amazon Keyword Tool that generates long tail keywords directly from Amazon, and it does so in real-time!The downside of KTD is that it only offers 3 searches per day on the free version. To get more daily searches, you need to pay a one-time fee of $69.99 (now discounted to $58.79).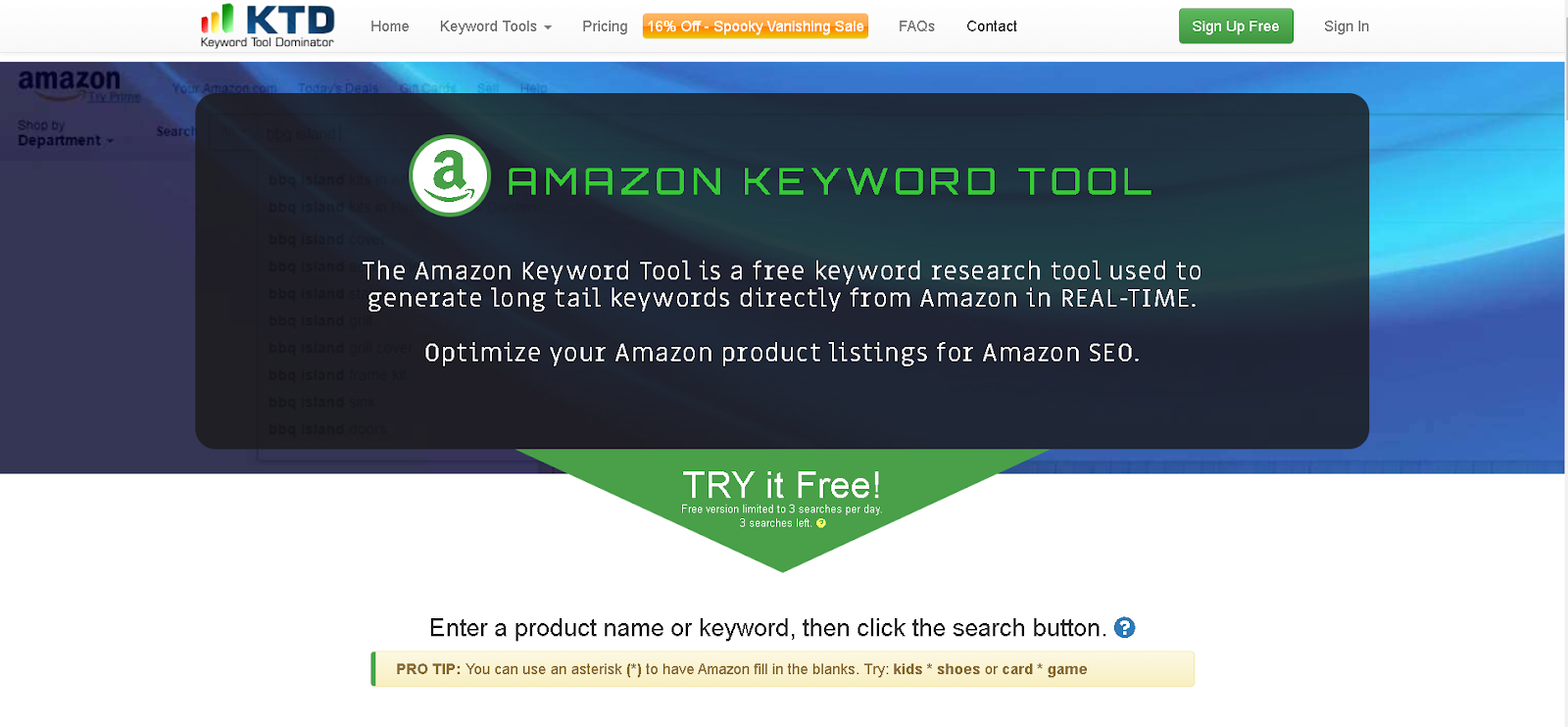 Helium10 Cerebro
Helium10's Cerebro is an amazing tool that allows you to gain insight regarding your competitors' keyword strategy. It not only helps you discover which keywords your competitors are targeting, but also to figure out how many units are needed per keyword in order to rank on page 1.Same as KTD, Cerebro has a limited number of daily searches (2 per day), while more would require you to pay $37 per month or $370 per year.
Scientific Seller
Scientific Seller is the world's slowest keyword tool. Yes, you heard that right – the slowest!What makes this tool unique is the fact that it finds a few hundred keywords within seconds, but then it goes even further. It runs overnight and searches further and further away from the seed keyword in order to find related keywords that we'd never possibly think of on our own.And yes, this one is totally free and without limits.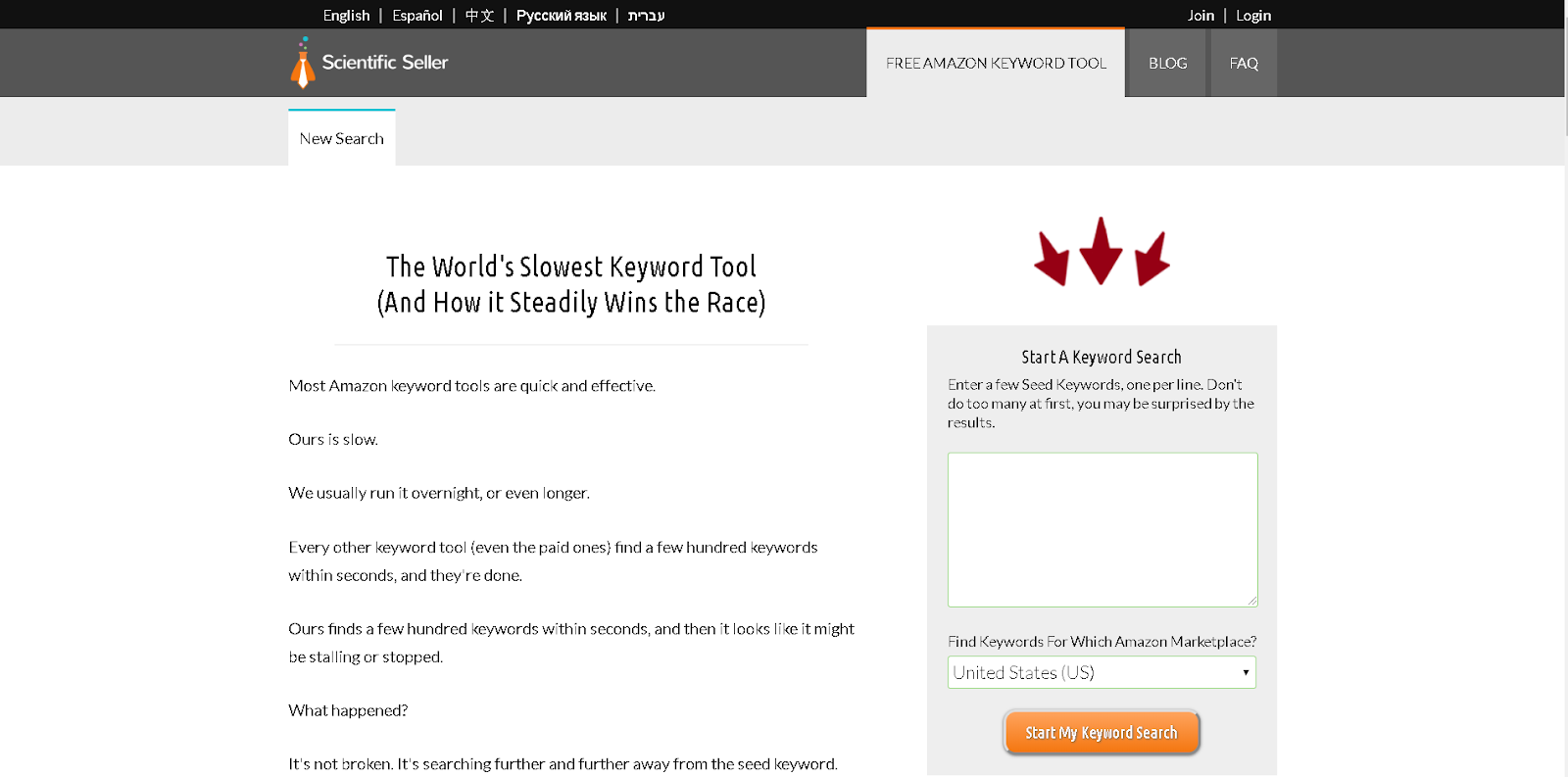 Seller App
Seller App's free Amazon Keyword Search tool helps you understand the best keywords to use in your listing by providing data such as search volume, CPC and relevance score. The downside to Seller App is that it shows only a limited number of keyword ideas per search on the free plan. Paid plans range from $149 to $599 per month.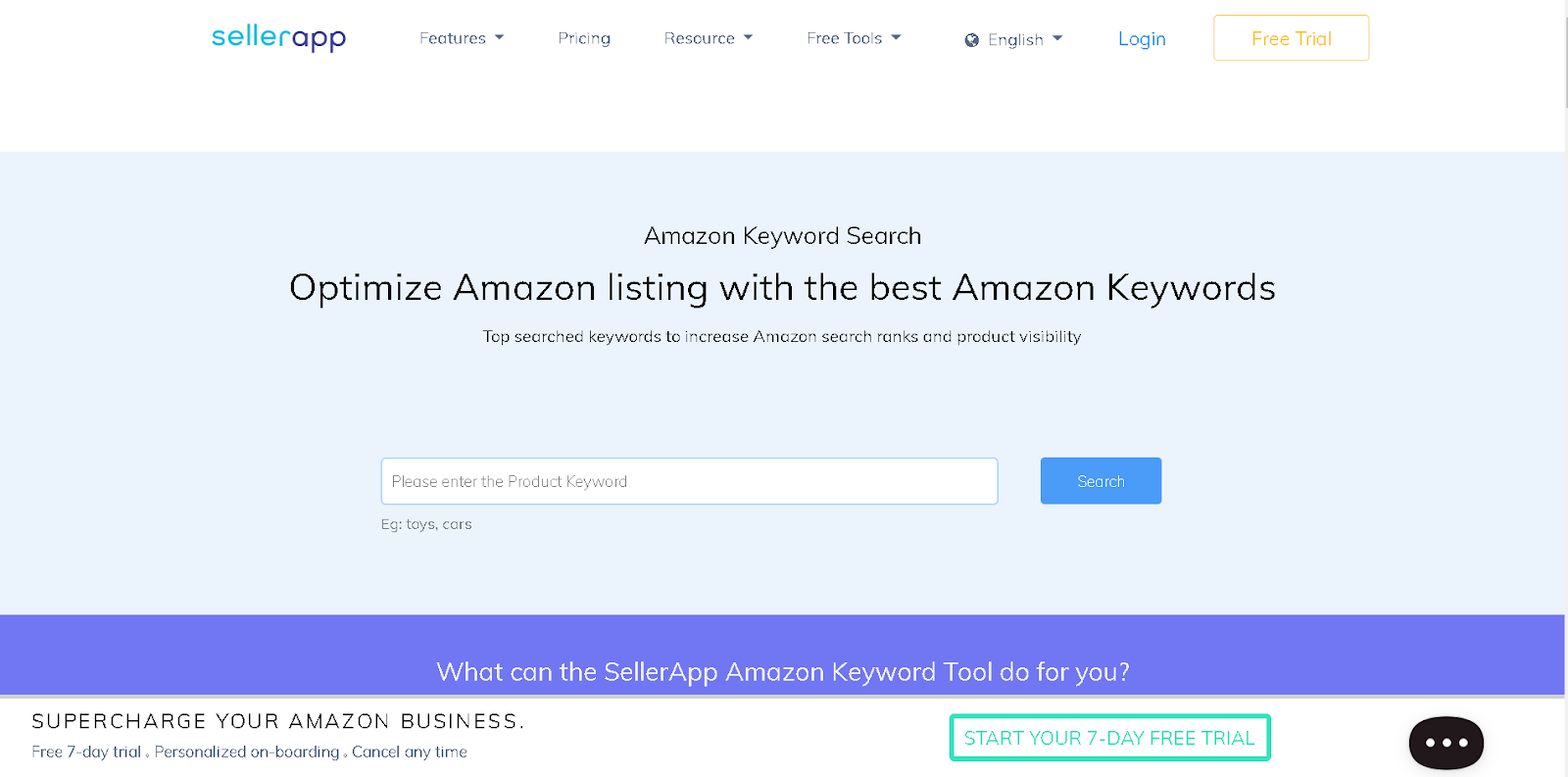 Paid Amazon Keyword Research Tools
Jungle Scout's Keyword Scout
Jungle Scout's keyword research tool – Keyword Scout – pulls in millions of data points to show you what Amazon customers are REALLY searching for. It finds exact or broad keyword search volumes, but also allows you to search by ASIN to explore which keywords rank for a specific product. It also allows you to find competing products, as well as see PPC costs and impression rates in real time!Jungle Scout's keyword tool costs anywhere from $39 to $419 per month. The price depends on your number of confirmed monthly orders, as well as whether you're getting the extension, the software or both.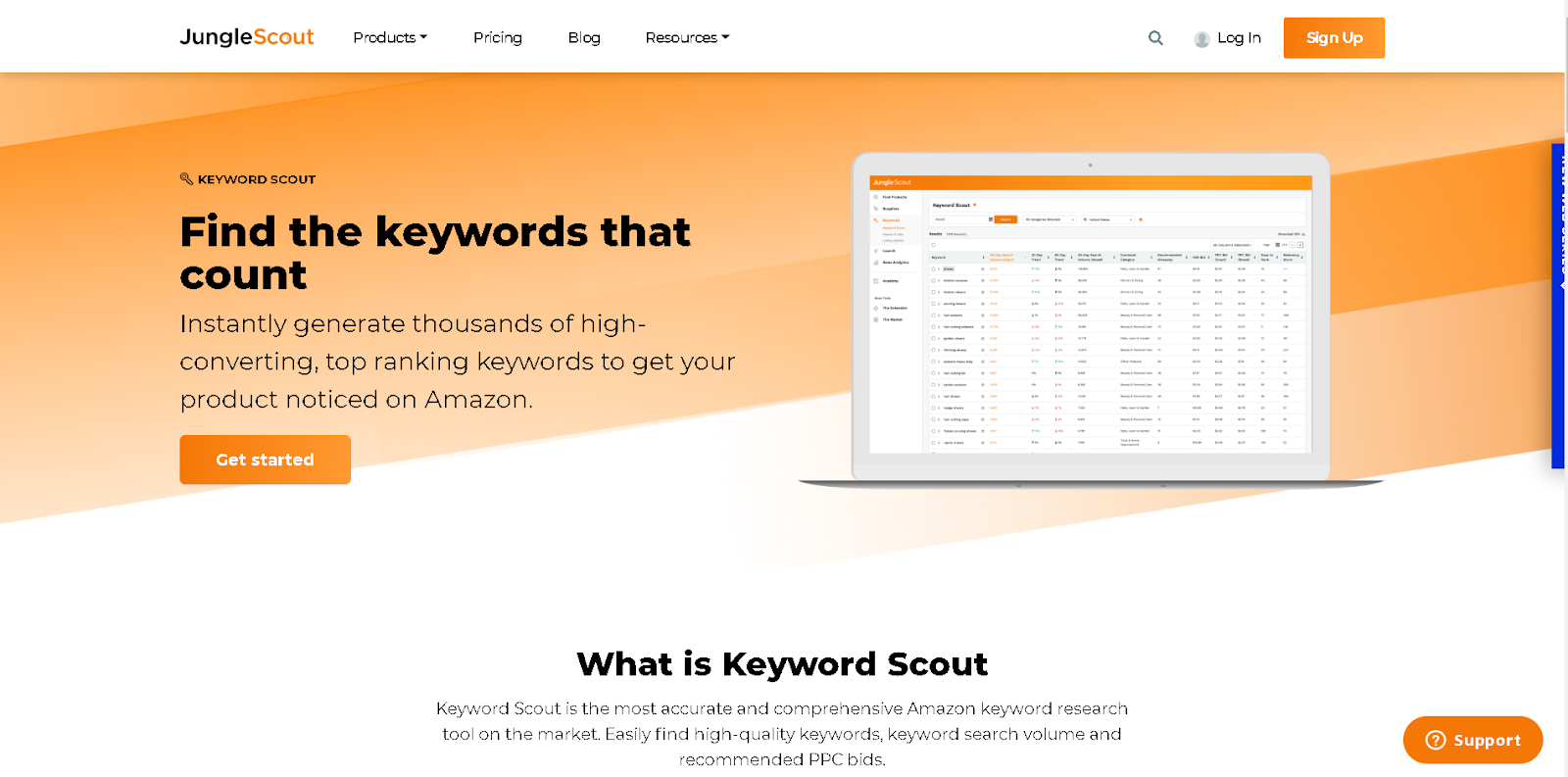 Sellics Amazon Keyword Tool
The Sellics software is an all-in-one keyword research tool for Amazon products, but also to track rankings, monitor search volumes, benchmark competitors, and a lot more.Their prices range anywhere from $57 to $317 per month depending on your annual sales on Amazon.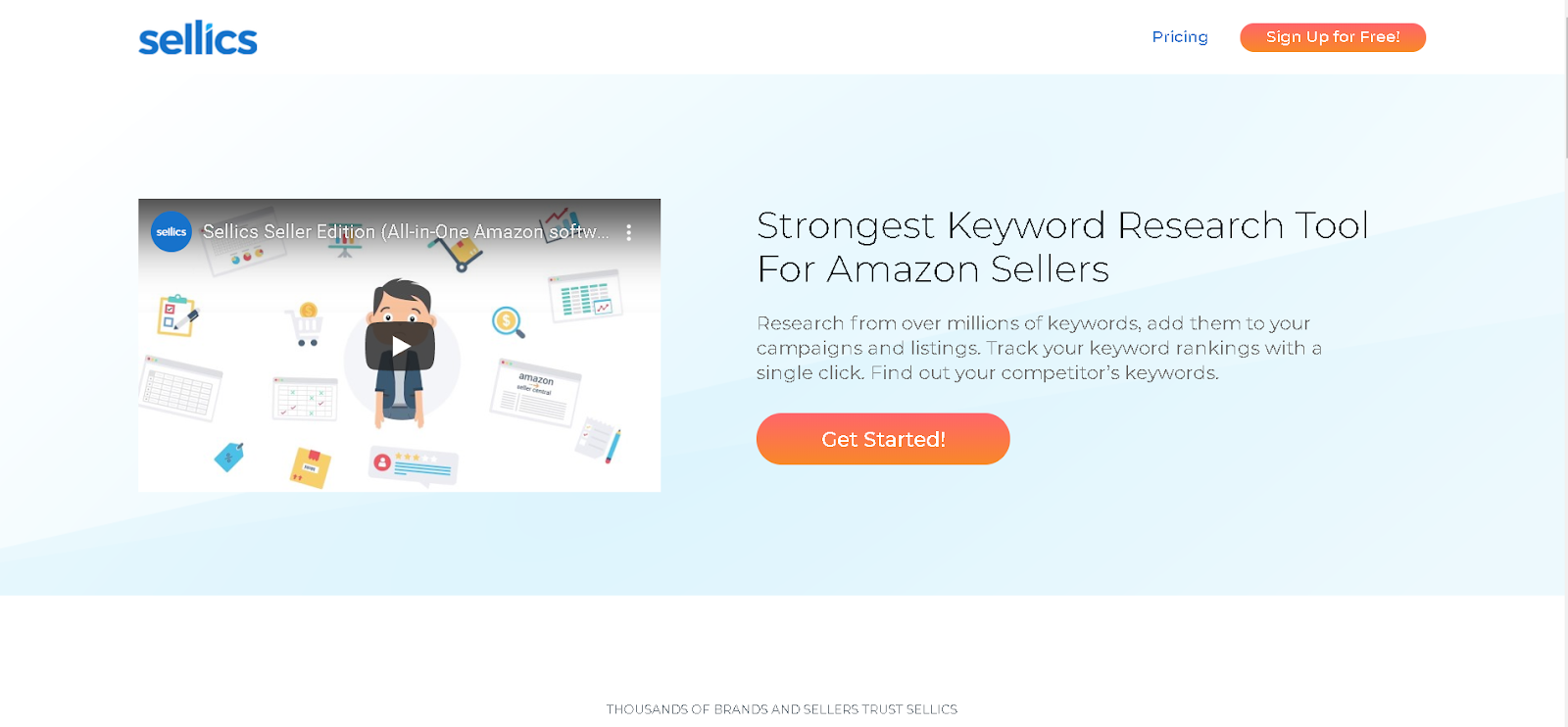 Zonguru
Zonguru's Keywords on Fire tool provides Amazon verified search volumes, sales volumes, competitor rankings, clicks and conversions info, average reviews, analysis of the top 50 products for a given category, as well as PPC bid info.The price of Zonguru's is $35 per month.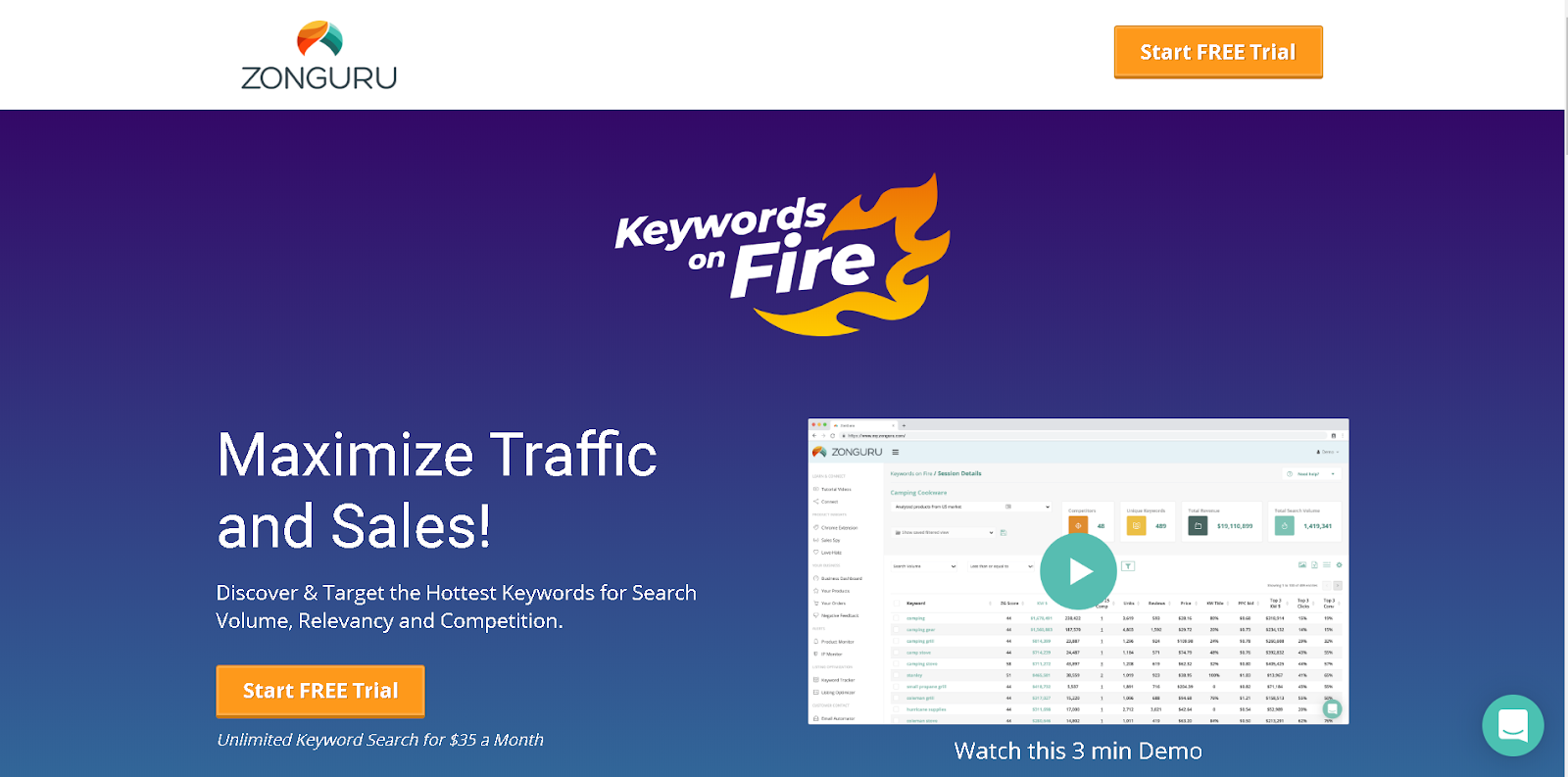 Ahrefs
Ahrefs is one of the best known and most powerful SEO tools that also provide keyword research support for Amazon. It provides an impressive amount of keyword suggestions, but also some advanced metrics such as keyword difficulty, clicks, parent topic, return rate, clicks per search and a lot more.The prices for Ahrefs start at $99 per month and go all the way up to $999 per month depending on your needs and number of users.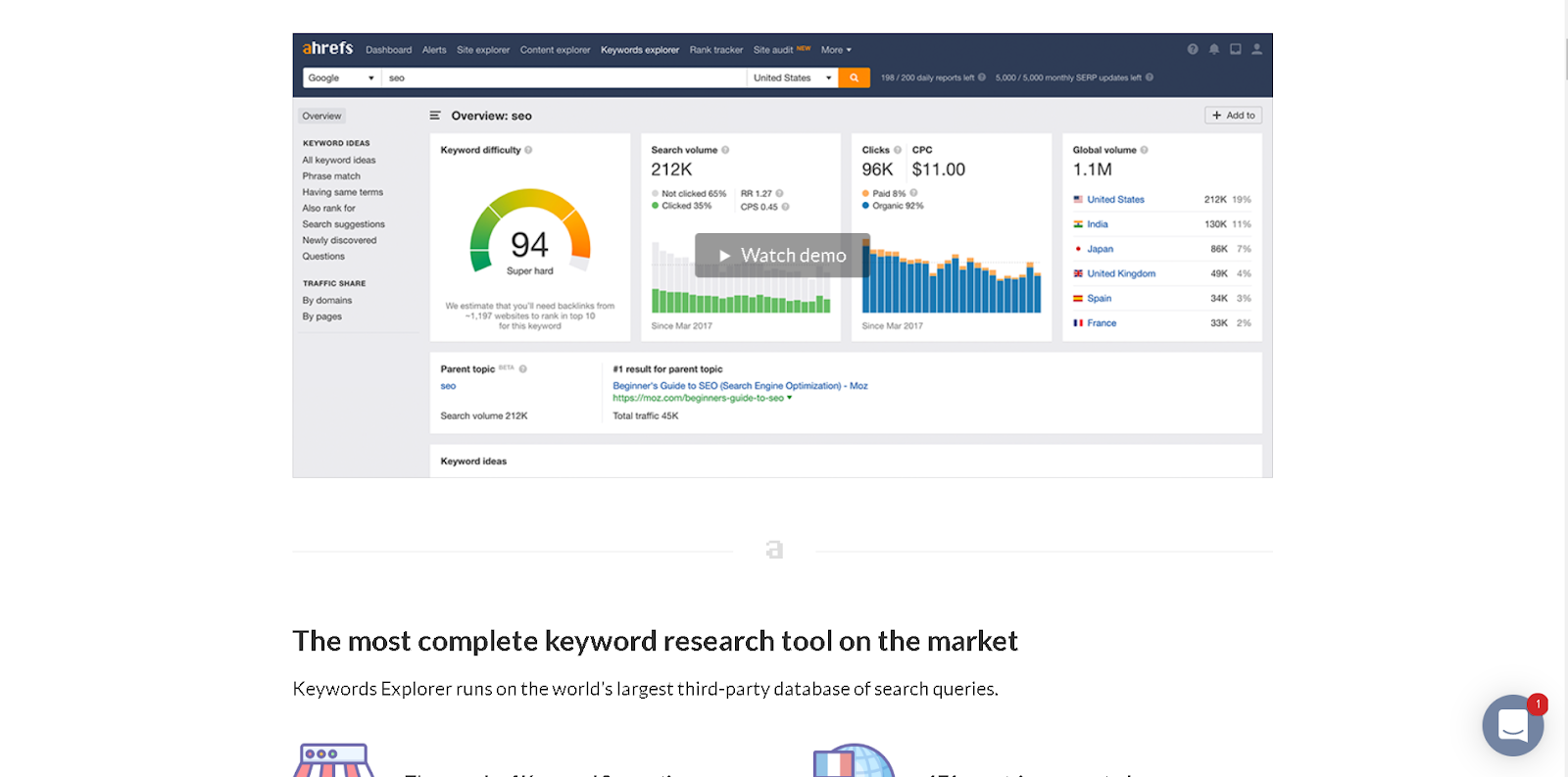 Viral Launch
Viral Launch is one of the most advanced Amazon keyword research tools out there. Its features include:
Reverse-ASIN lookup
Provides search volume estimated based only on actual Amazon data
Shows you historical volumes
Parallel keywords that don't include the seed keywords but are still relevant
Relevancy score
Opportunity score and more!The price of Viral Launch starts at $49.17 and goes up to $332.50 per month.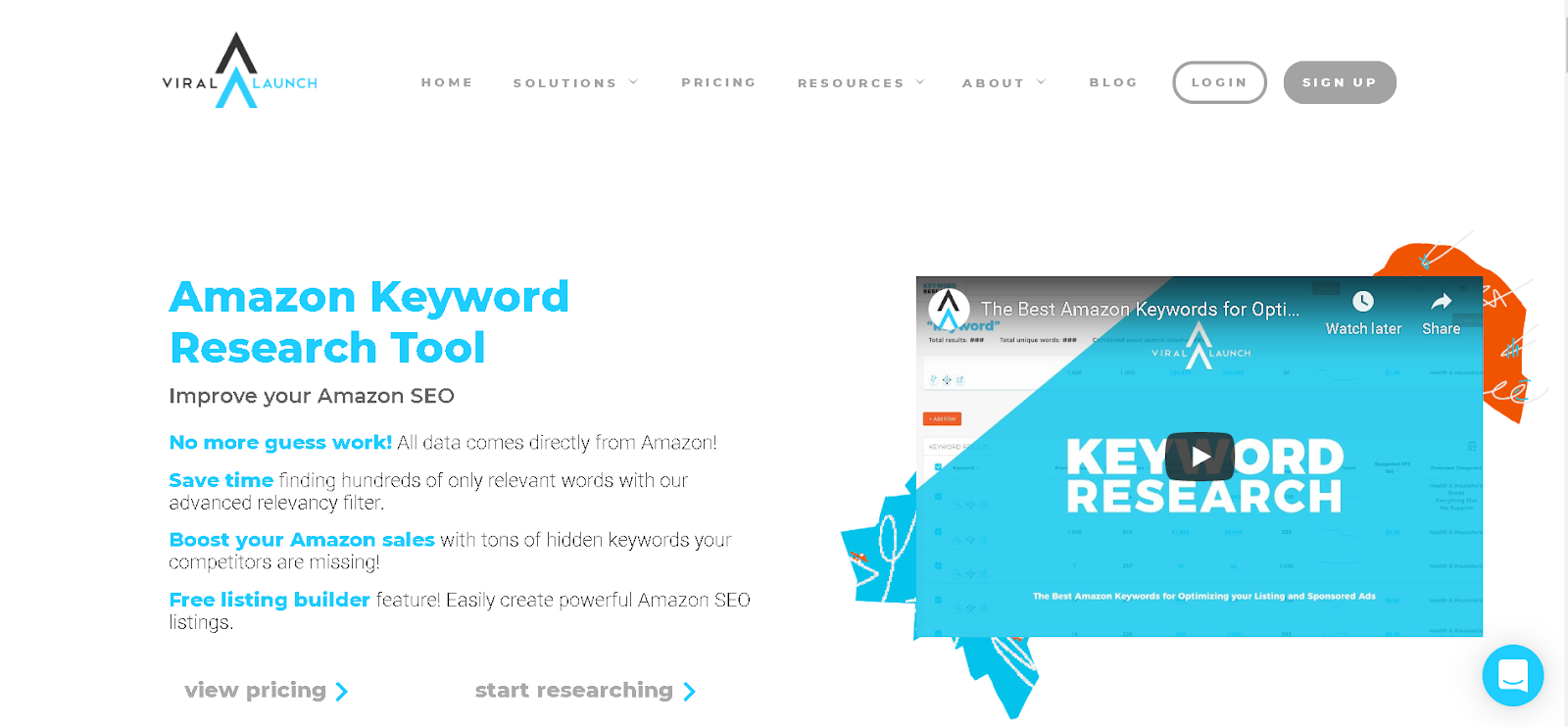 MerchantWords
MerchantWords allows you to uncover product opportunities and understand the Amazon competitive landscape. Their data comes directly from the Amazon autocomplete search bar.heir prices start at $29 per month for 500 searches and go up to $149 per month for an unlimited number of searches.
Keyword Tool
Keyword Tool uses Amazon autocomplete to generate a large number of relevant keywords and by doing so helps you write optimized product listings.While you can use Keyword Tool for free, it lacks some essential features such as search volume. However, the paid version of Keyword Tool (Keyword Tool Pro) does offer that, plus 2 times more Amazon keywords in comparison to the free version. It will also give you access to many other useful features.The prices of Keyword Tool Pro range from $69 to $159 per month.
2. PRODUCT TITLE OPTIMIZATION | How to Optimize Amazon Titles?
When it comes to product titles, Amazon has a 250 character limit, which is around 50 words. The best advice is to use up ALL of it, or at least make sure you're able to maximize the character count as best as you can.Now, many sellers contact us asking for a formula for writing good Amazon product titles, but the truth is, there is no one formula—there are many… and they often change!Each product category has its own formula that sellers should use when writing product titles, but all categories start with the brand and the product name. Other parts of the title formula often include the quantity (if more than one), the color (if it comes in more than one color) or pattern, the model number, the power output, the size, etc.When doing Amazon product title optimization, it's very important that you follow Amazon's style guidelines and have correct capitalization and spelling.In addition to using the correct formula, here are a few additional steps you can take to get in front of the competition:
Make sure to add focus keywords to the titleYou want to add the chosen keywords from your keyword research to the listing title.
Add extra valueInclude the product's unique selling point (at least one feature will do)
Write for humans, not only the search engineEven though you should be optimizing your product titles for the Amazon search engine, don't forget that the title needs to make sense to humans too. So don't just stuff it with keywords, make sure it actually looks appealing to the buyers as well!
3. PRODUCT DESCRIPTION OPTIMIZATION | How to Optimize Amazon Product Descriptions?
When optimizing your Amazon listing product descriptions, there are a few things you must never do:
Do NOT copy and paste the manufacturer's description (the description may be similar to what's on the manufacturer's site, but not copied verbatim)
As with listing titles, do NOT use ALL CAPS
Do NOT list company-specific information
Do NOT list details about other products you sell
Do NOT express an opinion, but rather objectively discuss the major features of the product
So now that we've covered the no-no's, here are a few rules that will actually help you optimize your listings properly and get in front of the competition:
Product descriptions should be written in paragraph form and in complete sentences that are easy and interesting to read – use proper grammar and punctuation
Product descriptions should cover all the major product features, as well as expand on the details listed in the bullet points
Product descriptions should list Information on the materials and construction, controls and settings, as well as included parts and accessories
They should also include accurate dimensions, particular care instructions, and warranty information
Other things that can be included in the product description section are limitations of products, origin of manufacture, safety instructions or warnings, how products were created or tested, information on major awards won, etc.PS. The Amazon product listing description character limit is 2000 characters.
4. PRODUCT FEATURES (BULLET POINTS) OPTIMIZATION | How to Optimize Amazon Bullet Points?
The point of the Amazon listing bullet points is to list all the major features of the product in an easily digestible and concise fashion.In today's digital world, people have short attention spans and are used to scanning through content quickly. Most customers don't want to scroll down very far on the page, so it's crucial to put the most important information in the bullet points.Some details that are often included in bullet points are the following:When optimizing your Amazon listing product descriptions, there are a few things you must never do:
Do NOT copy and paste the manufacturer's description (the description may be similar to what's on the manufacturer's site, but not copied verbatim)
As with listing titles, do NOT use ALL CAPS
Do NOT list company-specific information
Do NOT list details about other products you sell
Do NOT express an opinion, but rather objectively discuss the major features of the product
5. IMAGE OPTIMIZATION | How to optimize Amazon Product Images for the Best Results?
Yes, Amazon has rules for the images as well. If you want to get your product to the first page of the search results and boost your visibility, you'll definitely want attractive, well-optimized images as well.So here are a few Amazon image optimization rules that will make your life MUCH easier:
Follow the technical image requirementsFormat: There are four types of files for product images that Amazon accepts and those are TIFF (Tagged Image File Format), JPEG (Joint Photographic Experts Group), GIF (Graphic Interchange Format) and PNG (Portable Network Graphics).Since Amazon applies additional compression to the images, they should be uploaded with minimal or no compression. If you're submitting JPEG images, save them at the highest possible quality level, and avoid resaving the image in JPEG format while editing the image. If you're using TIFF files, do not apply any file compression at all. Also, make sure to remove layers from all images before submitting them to Amazon!Size: All images used in product listings must have pixel dimensions of at least 1000 or larger in either height or width.
Follow Amazon's image naming rulesProduct identifier (ASIN, ISBN, EAN, JAN, or UPC) stripped of any dashes or spaces, followed by an optional 4 character variant code (MAIN, PT01, etc), and file extension. Make sure that each of these parts is separated by a period and remember that additional characters (dashes, underscores, or spaces) are not allowed.
Do NOT include text, borders, logos, mannequins or watermarks in your main image.If you have a mannequin in your product image, but don't know how to edit it out, feel free to get in touch and our team of designers will be more than happy to help!
Use up all image slots and assign image priority on the product pageUse a variety of product photos and make sure to showcase your products from multiple angles.
The image must be of, or pertain to, the product being sold.
The image must be in focus, professionally lit and photographed or scanned, with realistic color, and smooth edges.
Other products or objects are allowed to help demonstrate the use or scale of product.
The product and props should fill 85% or more of the image frame.
Cropped or close-up images are allowed.
Backgrounds and environments are allowed.
Text and demonstrative graphics are allowed.
Pornographic and offensive materials are not allowed.
6. ENHANCED BRAND CONTENT
Another good way to optimize a listing is to add an enhanced brand content.If you remember, we've recently written about the differences between vendor and seller central, and enhanced brand content or EBC is one of them. It is only available in Seller Central and to products registered in the Amazon Brand Registry.EBC allows sellers to provide additional content and images to product listings. Any content that is added to EBC will appear in the Product Description section that's located below the main product details and above the product reviews.Some of the benefits of using enhanced brand content are:
More space for visualsImages work excellent at engaging customers and motivating them to interact listings. They also provide sellers more opportunity to display what they are selling through product-focused or lifestyle imagery, so that the customer can actually imagine using the product in real life.
Added room to display product benefitsAmazon offers limited space for displaying product benefits. Luckily, EBC gives you room to highlight your product's UVP (unique value proposition) and answer some common buyer questions.
Branding opportunityEnhanced brand content gives the sellers additional opportunity to make listing stand out by making them unique and visually appealing. With this custom content, sellers can even add a logo and some info on their brands and products. What's even more impressive, the sellers can even add info about their websites, and that can provide massive opportunity to build trust in buyers' eyes.
HOW TO CREATE EBC?
Creating well-optimized EBC for Amazon listings is a pretty straight forward process.You can create it by logging into your Seller Central account and clicking on 'Advertising.' After that, from the drop-down, you click on 'Enhanced Brand Content'.You will then be asked to choose the SKU representing the ASIN of the product you want to use the EBC listing. Once you do that, Amazon will offer you predefined templates with image and text slots.Which one you choose is completely up to you, but we recommend choosing the one that will allow you to convey the content in a clear, yet visually appealing way. After you do so, upload the images, add the text content, and submit for verification. Once Amazon approves your enhanced brand content, you will be able to see it live on your product listing page.
7. URL OPTIMIZATION | How to Optimize Amazon Product Links?
While you can't exactly pick what your URL is going to look like, Greg Mercer from JungleScout has figured out a way to influence it a little bit. If you want to learn his hack for optimizing Amazon product links, follow the steps below when initially creating a listing:
Type your main keyword in the product name. Don't include the brand name, just unbranded keywords with higher search volume.
Add your brand name in the Vital Info tab (remember to change this later)
Click "Save & Finish"
Check back a day later – Amazon should have saved your listing with the main keyword in the URL
8. BACK-END KEYWORD OPTIMIZATION | Is it Important to Optimize Amazon Back-end Keywords?
Amazon Backend Keywords are hidden keywords that can be added to product listings to boost their visibility. These search terms are not visible to users visiting product listing pages, but they definitely are "looked at" by the Amazon search engine.
DOs and DON'Ts of Backend Keyword Optimization
DON'Ts
DO NOT repeat keywords; once is enough.
DO NOT duplicate content present in the title and bullet points.
DO NOT go over the 250 character limit
DO NOT use irrelevant and misleading keywords
DO NOT use terms that are offensive and abusive
DO NOT include brand names or other product identifiers
DOs
Separate keywords with spaces. Use a single space to separate keywords
Enter the phrases in logical order. E.g. instead of 'book hardcover edition pocket', use it as 'hardcover pocket edition book'
Use well-known abbreviations: Lord of the rings, LOTR
List synonyms of your keywords
Include alternative product names: body wash, shower gel
BONUS POINTS
Providing Excellent Customer Experience and Getting Reviews
Besides listing optimization, product and seller ratings are the most important factor that drives buyers to make their decision. A simple thing as having 10 reviews on a product can make a world of difference for your conversion rates. But of course, make sure both your seller account, as well as your product listings have excellent reviews—and if by any chance you get a negative one, make sure to take the proper steps in order to remove that negative feedback!
USING FBA | Is fulfilled by Amazon really the better option?
Choosing FBA (fulfillment by Amazon) can bring a lot of benefits for you as a seller, but also for the buyer. Prime members get 2 day shipping, but also buy a lot more and love to see that Prime logo on the product listings! So if you ask us, the question of Amazon Seller Central vs Vendor Central is a no brainer and we'd opt for the FBA option any day of the week!
AMAZON LISTING OPTIMIZATION SERVICES | Should you outsource your Amazon product optimization?
If the Amazon product listing optimization process is too complicated for you, you don't want to invest in tools, or you simply want to focus on growing your business and not deal with the technical side of things, feel free to contact us and learn all about our Amazon listing optimization services. You may also choose to schedule a free consultation with one of our Amazon specialists!